I wanted to compose a list of my most favorite beauty products. The ones that would make me cry if they got discontinued.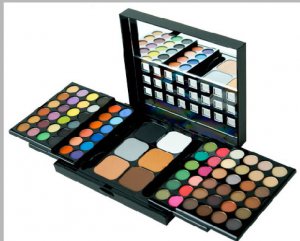 1.
NYX Eyeshadow Palette S104
Has the most long lasting power with great pigmentation and a whole plethora of colors to satisfy any eyeshadow look! The quality is really amazing for the price.
2.
Wet n Wild Color Icon Collection Eyeshadow Set, Comfort Zone 738, .3 oz
I have almost all of the Wet n Wild color icon eyeshadow palettes, but comfort zone is my absolute favorite. This palette with 8 colors could make a multitude of looks! The right side of the palette is my favorite though! The greens on this side just make me glow. It's like the equivalent of finding that perfect coral orange lipstick that lights up the rest of your face!
Pigmentation and lasting power are amazing in this palette just like most of the other Wet n Wild color icon collection.
3. Wet N Wild Ultimate Eyebrow Kit
I don't know why, but the Wet n Wild eyebrow kit makes my eyebrows look 10 times better than any other eyebrow product I've tried, high end and low end! Great natural looking colors and SUPER anti-smudge to last through the day!
4. Retin-A Micro
Ok... so this is a prescription for my acne. But, I had to put it on here. This product has made my face more glowing, smooth and even than anything I could possibly imagine.
5.
Monistat Soothing Care Itch Relief Cream 1 oz (28 g)
Though it's an anti-chafing product, this little gel actually acts like the best face and eye shadow primer I've ever tried! Just use a tiny tiny dot for eyelids and your eyeshadow will not fade or budge for the day! Also, makes skin look flawless and poreless when worn under foundation!
6. E.L.F.
Studio Contour Brush
I absolutely LOVE E.L.F. brushes; the brushes are super soft, dense and comparable to MAC brushes, but the eye contour brush is my must have. It is the best brush for blending and contouring that I've ever tried. Only $3!

The best eyeliner period. SUPER soft, no tugging, yet does not smudge or fade EVEN on the waterline!