I didn't know this, but some people find a thrill in killing and beating up homeless people.
I don't know why but I get so angry when I read stuff like this, but I could almost see the smoke coming out of my ears. This kid below is serving 15 years for killing a man in one of the most heinous ways... People like this should get at least life imprisonment... screwed up...The way he talks about it makes me boil even more inside...
These people who do this are the scum of the earth. They deserve less than nothing.
CNN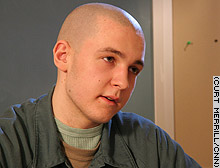 When Nathan Moore was 15, he and two of his teenage friends beat homeless man Rex Baum to death. Now 18, Moore is serving 15 years in a Wisconsin prison.